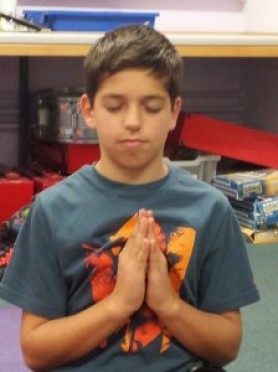 Empowerment is essential to a teenager's development. Yoga aims to help identify a place and offer's teenagers a strong sense of stability. Regular practice of yoga and knowledge creates self awareness and will enhance feelings of self-worth, which can boost levels of self confidence in these crucial transitional years. Teens want to be free, free to work things out for themselves but when teens are not empowered to work things out for themselves, they may function less well as an adult.
Many teens would have already been exposed to yoga in their primary years; it is a very popular extra curricular activity in schools. Complimentary to little yogi, the aim of teen yogi is to build upon what they have already learnt and reinforce the importance of a healthy lifestyle, create awareness of the body and the mind so that teenagers can draw upon the lessons they have learnt on their mat to help them deal with the stresses and strains of everyday life.
Teenagers care about causes, self-expression and freedom. Very popular amongst them is "the yogi forum" a safe and comfortable space within which our teens can talk openly, share and express ideas and experiences without judgment. The opportunity promotes self-esteem, awareness and importantly respect for others. A teenager will tell you that adults at school and in their home environment make rules. Deep down teens know these are set down to make family life function better, or that rules and discipline at school is key to teach teens about responsibility. Yet teens will still rebel against them. A teen will expect their parents to always be there to support and love them but often on their terms. Teaching teenagers various relaxation and breathing techniques so that they can become mindful and learn to process negative emotions can also help them to have a better understanding on how to avoid and manage conflicts whether at school or in the home.
My aim is that yoga practice in your child's formative years will have a lasting impact in all areas of their lives into adulthood. Helping them to stay connected to their true self, enabling them to make wiser choices, and continue to experience wellbeing, flexibility and good posture, living a healthy lifestyle. They are after all our next generation of leaders, so let's empower them with the knowledge of yoga, so that they can experience it, live it and bring greater harmony and peace to this world.